Amarillo Beer Trail
Expiration: Must start using within 90 days of purchase
Expiration: After the first use, the Amarillo Beer Trail Pass will expire in 30 days

Download the Amarillo Beer Trail Pass and taste your way around town at three of our local
breweries! Savor the unique flavors of the Texas Panhandle and take part in this creative and
vibrant community that our independent craft brewers have created. With an ever changing
menu, you will be able to experience different seasons, flavors, and characters throughout the
year. Come one, come all, and come thirsty!

The Amarillo Beer Trail Pass is activated upon first use at any participating brewery. After the first use, the Amarillo Beer Trail Pass will expire in 30 days.

You will receive a text message and email immediately upon purchase. The Amarillo Beer Trail Pass can be used directly from your smartphone or use the print-at-home voucher in the email.

Must be 21 years old to consume alcoholic beverages.

Here's what's offered at each brewery:
1. Pondaseta Brewing: Flight of four 4oz tasters

2. Six Car Pub & Brewery: Flight of four 4 oz pours of your choice of any Six Car house beers

3. The Big Texan Steak Ranch & Brewery: Flight of four 4oz tasters
Included Venues
See locations on an interactive map.
Founded in 2018, Pondaseta brews modern American Craft Beer. We focus on Lager, IPA and Sours. Join us in our Amarillo Taproom for a beer and a bite from our food trailer.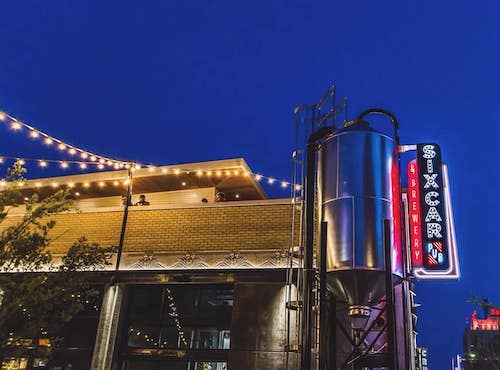 Amarillo's first downtown brewpub with a full service kitchen, rotating taps, cider & wine offerings, and a rooftop patio. Open for lunch, dinner, and Sunday brunch!
The Big Texan Steak Ranch & Brewery
In 1960, R. J. "Bob" Lee opened The Big Texan Steak Ranch in Amarillo Texas on Route 66, the "Mother Road". It's distinctive architecture soon became recognized across the Mother Road as a good stopping place for great steaks and world class, home brewed beer! The Big Texan is famous for the FREE 72oz steak challenge, which includes eating a salad, baked potato, shrimp cocktail and 72 ounces of beef!
Show more